Window and Door Repairs near Northampton – Glass Repair
01604 269325
Welcome to Northampton Repair my Windows and Doors! We are your trustworthy source of professional help for all window and door repairs in the Northampton area. If you are having any issues with your windows or doors, give us a call – we have a remedy.
At Northampton Repair my Windows and Doors, our expert team understands the inconvenience of a broken door or faulty window. We are proud to provide top-notch repair services to restore the performance and appearance of your home while ensuring its security.
Our seasoned engineers are able to assist you with any and all repairs or replacements, from a window lock issue to an entire double-glazed unit. We can help rid you of those pesky inconveniences like leaks, air leakage, rattling frames, and more associated with worn out windows or doors.
No matter the type of window repair, our expertise is up to the task. We can bring uPVC or aluminium windows back to full splendour.
At Door Doctor, we are dedicated to providing the best door and window repair services. We can mend uPVC doors, French doors, patio doors and bifold doors so that they are secure and running perfectly. Our goal is to ensure that all the entrances of your home function perfectly.
Homeowners are well aware of the importance of safety and security. Thus, in addition to their general repair services for locks, door handles, hinges and even cat flap installations – we additionally provide letter box fitting and security chains to further enhance the assurance they feel.
Don't let your foggy windows get in the way of enjoying the spectacular view outside. Our engineers are dedicated to quickly and accurately replace any misted double glazing units with new ones.
A little bit about Northampton Repair my Windows and Doors
We are the proud providers of window and door repair services in Northampton. Our expertise and commitment to providing outstanding customer service has earned us a solid reputation.
Our qualified engineers possess the know-how necessary for window and door repair. Whether it be a minor issue, like a damaged handle, or more complex cases such as condensation between the layers of double glazing, we guarantee a speedy and precise service.
Our team recognise the distinctive needs of homes and so all our services related to uPVC and aluminium windows are tailored accordingly. We guarantee that, whatever their worn-out components, your windows will be working optimally after we are done.
At Door Assist, we provide quality maintenance and repair services for all types of doors – uPVC, French, patio or bifold. Our goal is to ensure that your entryways not only look and work better, but are also more secure.
Ate can assist you with any door or window maintenance needs, such as repairs to locks, hinges, handles and glass panes. Moreover, we can install letter boxes as well as security chains for extra safety at your home. Furthermore, if your furry friend requires access to your house – leave it in our capable hands!
At Northampton Repair my Windows and Doors, we are focused on delivering the greatest customer satisfaction. Our quick services are of a high standard and cost-efficient too. If you live in or near Northampton and need window or door repairs, don't hesitate to give us a call! Boasting reliable solutions, we will refresh your windows and doors quickly.
Window Repair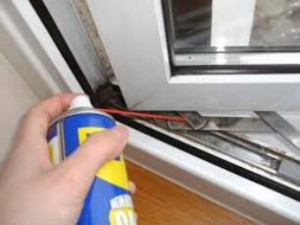 Facing problems with your windows? Don't worry – Northampton Repair my Windows and Doors is here to help! We offer outstanding window repair services to the people of Northampton and its vicinity. Whether it's a cracked glass, a faulty lock or a malfunctioning handle, our team of experienced technicians can take care of all your troubles.
When it comes to uPVC window repairs, our team of experts has the skillset needed to tackle any issue. We offer services ranging from replacing broken frames to fixing unresponsive hinges, guaranteeing that your windows will work as intended.
If you need any help with repairing aluminium windows, our experts are the ones to contact. We can take care of dents, scratches, locks and handles – no need to look elsewhere.
Take your worries away and let our experts in window lock repair and replacement keep your home secure. We guarantee you will be content with the finished result.
Do you have issues opening or closing your windows? It could be the handle that needs mending. At our firm, our qualified engineers are more than equipped with the right tools to fix or switch out handles to guarantee your windows work effectively.
If your windows are giving you trouble, don't stress! Our repair services will have them running smoothly once more.
If you're having issues with foggy or misted double glazing, our experienced staff is here to help. They can restore your windows to pristine condition.
At Northampton Repair, we understand the importance of having doors that work correctly for homeowners like you. That's why we have tailored our repair services to cater specifically to uPVC doors.
uPVC Window Repairs
For many homeowners, uPVC windows are a popular selection due to their strength and energy efficiency. If there are any issues that arise with them over time, it is important to act promptly in order to prevent further problems.
Issues with a faulty lock can make it impossible to safely secure uPVC windows. Fortunately, Northampton Repair My Windows and Doors are here to help. Our experts will evaluate the condition of your lock and provide fast repairs, restoring the safety of your property.
uPVC windows can be susceptible to damage on the hinges, causing draughts, leaks and frames that are hard to open or close. Fortunately, our engineers are highly proficient in replacing or repairing uPVC window hinges, so you won't have to wait long till your windows return to normal.
If you have noticed fogging or condensation in your uPVC windows, this is an indication of a problem with the sealant or insulation. Our experts can resolve misted double glazing issues by replacing the sealed unit, thus rectifying any clouding or moisture matters.
Here at Northampton Repair my Windows and Doors, we understand the importance of having functional and attractive uPVC windows in your home. Our repair services are comprehensive yet affordable. Don't take any chances with faulty or broken uPVC windows – get in contact with us immediately for top-notch results!
Aluminium Window Repairs
If you need an experienced hand to repair your aluminium windows, Northampton Repair my Windows and Doors have the perfect professionals for the job. Our team is equipped with the latest tools and expertise, so you can rest assured that your window will be restored to its former state in a timely manner.
Issues with aluminium windows often arise over time, leading to distorted or corroded frames. This can have an effect on thermal insulation and safety. Our professionals are skilled in assessing these frames and are equipped to address any necessary repairs.
Sometimes aluminium windows suffer from broken or cracked glass panes, which may be due to an accident or simply as a result of wear and tear. This can have an effect on your home's energy efficiency and detract from its appearance. Our team can quickly provide you with a replacement pane, with skill and precision.
At our company, we offer experienced repair services for faulty parts on aluminium windows. This includes components such as handles, hinges, locks, and seals – all of which are integral to ensuring reliable window performance and security. Don't wait for the situation to worsen – seek our help and avoid having to pay out a significant amount of money for replacements.
If you're in Northampton or its surrounding areas, trust the experts at Northampton Repair my Windows and Doors for top quality aluminium window repairs. They'll find the best solution for your needs.
Window Lock Repair
Do you need assistance with your window lock? Don't delay in taking care of it – not doing so could put your home safety in jeopardy. Northampton Repair my Windows and Doors provides professional window lock fixing services in Northampton and its surrounding areas. Reach out to us; we can come to the rescue!
Our experienced engineers possess the skill to identify and fix many window lock issues. Whether it's stuck, broken or simply not performing as expected, they have the expertise to have it working again.
When you come to us for a window lock repair, our skilled professionals will use only top-quality materials to provide a lasting solution. We are aware of the importance of security, so our team will make sure to set it up quickly and reliably.
The security of your home should not be jeopardized by an inadequate window lock. Northampton Repair my Windows and Doors can provide high-quality repairs to ensure your locks are up to spec! Make contact with them now.
Window Handle Repair
No need to worry if your window handle isn't functioning properly – the reliable team at Northampton Repair my Windows and Doors is here to lend a helping hand. We offer repair services for handles near Northampton.
A faulty window handle can be a real hassle, stopping you from both air-conditioning and protecting your residence or workspace. It's best to take action swiftly in such instances.
We're here to assist you with any window handle difficulties you may experience. Our highly competent personnel possess the skill and know-how to analyse and fix the issue straight away. You can rest assured that your uPVC or aluminium windows will return to their full operating order in no time.
At our window handle repair service, we are determined to ensure you never again experience difficulty with your handles. We strive to give you the peace of mind that your windows operate effortlessly, allowing you to relax comfortably in your own home.
Save yourself from any further trouble and contact Northampton Repair my Windows and Doors right away. You will get prompt and efficient repair services that ensure your windows are in top shape.
Window Hinge Repair
Maintaining your windows' efficiency relies on hinges in good condition; over time, damage or wear and tear can cause problems such as sticking, draftiness and even total breakdown.
At Northampton Repair my Windows and Doors, we provide excellence in window hinge repair around Northampton and the surrounding areas. Our skilful engineers identify and fix any issues promptly and precisely.
Our specialists are equipped with the expertise and resources necessary to provide excellent repairs for both uPVC and aluminium windows. They'll inspect the hinges carefully and decide if they can be mended or need to be exchanged.
Don't put off window hinge repair – it can cause serious issues down the line. Northampton Repair my Windows and Doors have the skills and experience to give you the help you need. Get in touch today!
It is essential to ensure that your window's hinge is functioning properly for the best performance and durability of your window.
Window Glass Replacement
Accidents can happen and leave your windows in need of replacement. Major incidents, like a baseball or intense climate, as well as minor damage can make a home look unpleasant and reduce its security. Here at Northampton Repair my Windows and Doors, we recognize the significance of having dependable windows in your home.
Our team is the right choice for window glass replacement in and around Northampton. We have the know-how to tackle any kind of glass, from single pane, double pane, tempered, tinted to energy-efficient options. Our approach guarantees a fast job with minimum interruption to your routine.
When you choose our services for window glass replacement, we guarantee the use of top-notch materials and professional workmanship. Our aim is to ensure that you get the highest quality at a reasonable price, so you can have peace of mind.
Broken or damaged windows can be incredibly hazardous to the safety and aesthetics of your home. Don't ignore the issue any longer, contact Northampton Repair my Windows and Doors today for their excellent custom-fit window glass replacement services.
Misted Double Glazing Repairs
Are you done with hazy or foggy windows? Don't worry – we are here to help. Northampton Repair my Windows and Doors can get your double glazing back in shape swiftly, restoring your view and the window's functionality without delay.
Misted double glazing can lead to various problems, from obstructing your outlook to reducing energy efficiency. Generally, it arises from age, incorrect setup or even a broken seal.
Our experts have the skills and knowledge needed to identify problems and ensure repairs are of top-notch quality. We are sure to use the right materials, which eliminates weak seals or broken glass panels, so your windows will be restored to their former glory.
Our professional repair services can enhance insulation in your home or office as well as boost its aesthetic appeal. Don't let poor visibility remain an issue; take advantage of our services to enjoy crystal-clear windows.
Let us help you overcome the inconveniences associated with misted double glazing. Contact us now to get reliable, cost-effective solutions that will make your windows look brand new!
Door Repair
When it comes to your home's protection, the integrity of your doors is critical. Over time, they may become damaged or worn – potentially leaving you vulnerable to unwelcome intrusions. Northampton Repair my Windows and Doors are here to ensure that won't happen.
Our team of experienced professionals can handle a range of door repair services for uPVC and aluminium doors. We provide solutions to problems such as front doors that won't close properly, patio doors that are difficult to open or broken locks, handles and hinges. Our expertise and tools will help restore your doors to their former glory.
Our adept engineers possess the abilities essential to accurately diagnose problems and offer efficient solutions promptly. We understand the disruption that faulty doors can cause, so we make sure repairs are completed rapidly without sacrificing quality.
Don't let a broken door jeopardize the safety of your home. Northampton Repair my Windows and Doors is here to help with top-notch door repair services in and around Northampton! Get in touch now for quick assistance.
uPVC Door Repairs
If you live in Northampton or a nearby location and have noticed that your uPVC door is no longer performing as it should, don't worry! Northampton Repair my Windows and Doors can help. Homeowners can enjoy uPVC doors' resilience, good energy-consciousness and low maintenance requirements. But over time they can start to suffer some wear and tear – fortunately our experts are here to help.
If you have a malfunctioning uPVC door, our engineers have the expertise to get it back up and running. Issues such as sticking, not closing or broken hardware like handles and hinges can be quickly addressed. We realize how inconvenient and potentially hazardous a faulty door can be, which is why our team works fast to guarantee your satisfaction.
Our years of expertise and abundance of parts make it possible for us to restore your uPVC door swiftly. We'll repair locks and handles, sort out hinges and if required, swap panels – we've got you covered!
Northampton Repair my Windows and Doors can offer you the security and contentment of your home using dependable uPVC door repairs. Contact us to get expert workmanship you can trust!
Aluminium Door Repairs
At Northampton Repair, we focus on the repair of aluminium doors. Our experienced technicians understand the nuances of contemporary features, allowing us to perform repairs with precision.
Hinges can often cause problems with aluminium doors. Worn out or loose hinges can result in the door becoming harder to open and close, or even sagging. Our engineers have extensive knowledge of this issue and will ensure your door functions correctly when they're done.
Our team is experienced in repairing locks on aluminium doors with ease. Our experts can detect and troubleshoot any issue, from jammed locks to worn-down or faulty ones. Choosing only the highest quality parts ensures that our solution will be long-lasting.
Additionally, if your aluminium door has been through unfortunate circumstances or a break-in, our experts offer reliable and prompt repair services. They will examine the damage carefully and advise you on the best measures to make sure your doorway is once again safe and functioning.
No matter your aluminium door issue – frame adjustments, weatherproofing, or even glass replacement – our team of professionals has got you covered. We provide excellent service, with meticulous attention to detail and superior craftsmanship for every job. In need of reliable door repair near Northampton? Look no further than Northampton Repair my Windows and Doors!
French Door Repairs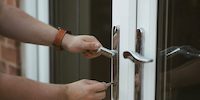 French doors give homes a chic, stylish upgrade; they not only allow natural light to enter and create an inviting atmosphere in interior spaces, but also offer a smooth transition between the indoors and outside. Despite being great additions to any property, their condition can start to decline with age just like any other door.
Are you encountering issues with your French doors? From a problematic handle to faulty hinges or locks, we at Northampton Repair my Windows and Doors are on hand to help. Our team of experienced technicians will take care of French door problems near Northampton and the surrounding areas.
We provide dependable repair services for French door locks, with your home safety in mind. Our experienced technicians can adjust existing locks or completely replace them to ensure that your doors are both functioning and secure.
If you are in Northampton and have an issue with your locks, handles or hinges on your French doors, our knowledgeable team can assist. We evaluate the situation and develop timely solutions so you can use your doors with ease again.
At Northampton Repair my Windows and Doors, surpassing customer needs is our ultimate goal. We can reinstate your French doors to perfect condition and guarantee their robustness for prolonged use. Contact us now to begin your quality French door repairs near Northampton!
Patio Door Repairs
Patio doors are a great asset to any home; providing easy access to your outdoor space and allowing natural light to brighten up your living space. However, wear and tear can be an issue over time, leading to loss of efficiency and security. Northampton Repair my Windows and Doors is on hand to make sure this doesn't happen.
Our team of skilled technicians are expert in mending patio doors in and around Northampton. From jammed frames to handles and locks that don't function, we have all the tools needed to do the necessary repairs.
It can be unnerving to have a patio door malfunction and jeopardize the security of your residence. Our knowledgeable technicians will promptly establish the problem and provide a satisfactory solution.
We offer a complete selection of patio door repair services so you can get your doors looking and functioning like new again. Our team can handle anything from mending damaged tracks to replacing broken glass panels or handles.
Don't let a broken patio door get in the way of your outdoor enjoyment. Reach out to Northampton Repair my Windows and Doors and they'll provide you with an inexpensive solution to any repair issues.
Bifold Door Repairs
Bifold doors are a much sought-after solution for those looking to connect their interiors and exteriors. They can offer greater convenience and style, but like all doors, may require assistance from a pro if and when issues arise over time.
Bifold doors can become misaligned, causing them not to fold or slide smoothly along the track. The culprit could be worn hinges, broken rollers or tracks, or improper installation. To avoid any further trouble, take prompt action right away.
Using bifold doors can lead to deterioration of handles or locks. Worn or broken parts compromise your security, so it's essential to take swift action and rectify the issue.
Besides, bifold doors may need to be fixed if the glass component has been damaged due to an impact or extreme weather conditions.
Maintaining your bifold doors at their best is essential. Northampton Repair my Windows and Doors are the experts in window and door repair, whether you're based in Northampton or further afield.
Composite Door Repairs
At Northampton Repair my Windows and Doors, our customers can rest assured they are receiving the highest quality repair service available. We have established a reputation for excellence in composite door repairs due to our knowledgeable engineers, who possess superior technical expertise. Their impressive skill set ensures that any issues are identified quickly and resolved promptly.
No matter the damage to your composite door, rest assured that our experts have the expertise to restore it. We employ advanced techniques and make use of modern tools for achieving splendid results. It doesn't matter if it is a minor issue or a major structural one, from repairing scratches to replacing panels and hinges, our commitment is unwavering in the face of any challenge.
At Northampton Repair my Windows and Doors, we know just how important a well-functioning door is – both for security and appearance. We guarantee swift services without compromising quality. Our composite door repairs will demonstrate our expertise and leave you with a feeling of contentment. Trust us!
Door Lock Repair
If you are having difficulties with your door lock, let Northampton Repair my Windows and Doors take care of it for you. Our experienced professionals can fix any kind of issue that you may have quickly and efficiently so that your door is secure and operates correctly.
When it comes to door lock problems, our talented and knowledgeable team has the expertise to diagnose and fix any difficulty. Whether it's a damaged lock or an ineffective mechanism, we can assist with all sorts of uPVC or aluminium doors.
We understand the inconvenience of a dysfunctional door lock – it can compromise the security of your home and put you at risk. That's why we prioritize efficient service, with fast turnaround times on all repairs.
We have solutions that are both dependable and efficient to ensure your safety. If you're in need of door lock repair near Northampton, please don't hesitate to contact us!
It's paramount to maintain the safety of your home or business; allow us to address any door lock repair requirements. We will use every measure necessary to ensure that your property is fully protected from all possible external threats.
Northampton Repair my Windows and Doors is the ultimate destination for door lock repairs. Their experienced staff will ensure that you get the best possible service. Don't delay – get in touch with them straight away to guarantee you receive top-quality help!
uPVC Door Handle Repairs
If you're experiencing issues with your uPVC door handle, the team at Northampton Repair my Windows and Doors is here to help. Our experienced professionals will provide a swift fix for uPVC door handles in Northampton and its neighbouring areas.
Having a uPVC door handle that isn't working properly can be a real pain, making it tricky to get into or out of your home. Fortunately, our experienced team are more than capable of assessing the problem and giving you an efficient service to fix the issue.
If your uPVC door handle is malfunctioning, our professionals can ensure efficient repairs. We appreciate the need for security and will guarantee that your repaired handle will offer you absolute protection.
Don't let time go to waste – get your uPVC door handle fixed by Northampton Repair my Windows and Doors. Our team of experts will ensure it works effectively, so you can be sure that it has been taken care of properly!
uPVC Door Hinge Repairs
At Northampton Repair my Windows and Doors, we understand the necessity of properly functioning door hinges. We guarantee a fast repair service to protect the safety and performance of your house.
With prolonged use and being exposed to the weather, uPVC door hinges can easily become worn or broken. This can lead to difficulty in opening and shutting the door, a creaking sound, or worst of all, total collapse of the hinge.
Our experienced technicians are the go-to professionals if your uPVC door hinge needs repair. With their expertise and tools, they can quickly identify and fix any problems with your hinges. In no time you can get back to enjoying seamless and secure operation of your door.
No matter the size of your project, we are here to take it on. Client satisfaction is our number one priority; that's why we provide fast service at an affordable rate.
Don't compromise your home's security and comfort with faulty uPVC door hinges. Northampton Repair my Windows and Doors can help with reliable repairs near you. Get in touch today!
Replacement Double Glazed Units
It is vital to preserve the energy efficiency and attractive look of your home; for this reason, double glazed windows should not be disregarded. Over time, they may deteriorate, leading to draughts, condensation and a reduction in insulation.
At Northampton Repair my Windows and Doors, we are proud to provide our customers living in the Northampton area with premier double glazed units. Our knowledgeable team can take accurate measurements prior to implementation so that the new windows will fit perfectly into your frames.
By selecting our replacement services, you can benefit from increased energy-efficiency. Our double glazed units are designed to reduce heat loss in the winter and lower solar gain during summer, leading to lower energy bills all year round.
Replacing your windows with our double glazed units will provide you with the ideal setting for a relaxing and peaceful home life, free from any external disturbances such as bus noise or noisy neighbors.
Finally, our replacement double glazed units give you the ultimate level of security. With advanced locking systems and reinforced glass, you can be sure your home is completely sealed off from any intruders.
Rejuvenate your home and give it a new worth with our expert upgrade services at Northampton RepairMyWindows and Doors! Don't delay – reach out to us now to breathe life into those worn-out double glazed windows.
uPVC Door Panels
If your uPVC door is displaying signs of ageing, the door panel may need some attention. Over time, these components are prone to cracking, fading or warping, which reduces its appearance and can weaken the security and insulation of the door.
At Northampton Repair, we will inspect any uPVC door panel you have and suggest whether repairing or replacing it would be more cost-effective. Additionally, our team can provide a great range of attractive models.
Our experienced engineers will replace your old panel with a new one, ensuring an impeccable installation and neat appearance. We only use the highest-quality materials which are designed to stand the test of time and can withstand difficult weather conditions – keeping your uPVC door panel secure despite any harsh elements.
Let your home's entrance regain its natural beauty and be restored to functionality with the help of our professionals at Northampton Repair my Windows and Doors. Contact us for all kinds of uPVC door panel repairs!
Replacement uPVC Door Panels
If your uPVC door panels have seen better times, Northampton Repair my Windows and Doors can help. Our team of experts will provide you with premium quality replacement panels to bring back the former glory of your entryway.
Our extensive selection ensures you'll find the perfect piece for your home. We carry classic and contemporary styles, with a range of colors to choose from that will blend in seamlessly with any decor. Whether you desire something subtle or eye-catching, our store has the ideal answer.
Replacing your uPVC door panels can give your entrance an aesthetic lift, increased durability and security, as well as boasting production from premium quality material. Constructed for enduring strength and unbeatable insulation, these panels offer superior dependability.
Our experienced engineers will ensure a smooth installation with minimal disruption to your day-to-day life. They will remove the old panel and fit the new one securely, eliminating any potential draughts or unwanted leaks.
Upgrade your uPVC entrance today with our top-notch alternative panels! If you need assistance to repair any of your window or door units, Northampton Repair my Windows and Doors is here to help.
Window Doctor Services
The experts at Northampton Repair my Windows and Doors are committed to providing exemplary service when it comes to looking after your windows. Our team will assess any issues, from lock breakdowns to malfunctioning handles and defective hinges, in order to guarantee optimum performance for every window.
We are proud to offer the ultimate uPVC repair service. Whether it's cracks or chips, seals or corrosion, we have the expertise and equipment to make your windows look and work like new. With our specialist knowledge of both uPVC and aluminium windows, you can have complete confidence that any damage will be completely reversed.
At ABC, we are experts in replacing window glass. Should you require assistance with any broken or damaged panes, our team's experienced technicians will promptly provide new ones to ensure your home stays safe and secure.
Condensation on double glazing can be both an eyesore and a threat to insulation efficiency. Fortunately, our team is equipped with the relevant abilities and materials necessary to quickly remedy the issue.
We can help you with your doors! Our repair services cover both uPVC and aluminium varieties, whether it's a broken lock or a faulty hinge or handle. We guarantee top-notch results, so your doors will look as good as new.
If you are located in Northampton and the surrounding areas and are in need of window doctor service, then Northampton Repair my Windows and Doors is here to help! Reach out to us today for expert assistance that is specifically tailored to your unique needs.
uPVC Repairs
Many homeowners opt for uPVC windows and doors due to their strength and energy saving capabilities. But after some time, maintenance may be required to keep them in perfect condition – that's where Northampton Repair my Windows and Doors comes in.
Our experienced engineers are highly proficient in uPVC repair. We can guarantee that your windows and doors will be restored to full function. Our expertise encompasses everything from cracked frames, worn-out hinges, to compromised seals – no issue is too complex for us!
UPCV windows can be prone to condensation that can truly spoil the look of your windows as well as decrease their insulation. Our skilled technicians are able to replace your double glazed units and return your windowpanes to a state of clarity.
Our services extend beyond window repairs to comprehensive repair of uPVC doors too. We can solve any issue, whether it be replacing locks and handles, fixing hinges or panel repairs.
At Northampton Repair my Windows and Doors, we help you maintain comfort and protection for your home through our dependable uPVC repair solutions. Don't let broken fixtures affect your peace of mind.
Door Ancilleries
When it comes to your door's ease of use, overall look, and protecting your home, Northampton Repair my Windows and Doors understands the importance of ancillaries. They provide a selection of services on these door accessories such as letter boxes, knockers, and security chains, all able to improve both the aesthetics and safety of your entryway.
We offer repairs and replacements of stylish and functional letter boxes that will add a touch of class to your entryway. Our craftsmen guarantee a smooth blend with your door for efficient mail service.
Let your doorway make a statement! Check out our selection of door knockers, available in classic and modern styles made from durable materials for long-lasting use. Whatever your individual flair, discover the perfect piece to perfectly express it.
Enhance your home's security with a sturdy security chain. This added safety measure shields against unexpected guests while providing you with the opportunity to communicate with those on the other side of the door without having to open it entirely.
At Northampton Repair my Windows and Doors, we are devoted to offering total solutions for window and door fixes. Our highly-trained personnel can cover numerous doors and components like letter boxes, knockers, and security links. We pledge fast service with top quality materials to make sure you're pleased with the outcome – whether it's in terms of aesthetics or functionality.
Cat Flap Installation
Do you want to give your cat the freedom they deserve? Our team of professionals at Northampton Repair my Windows and Doors can help. We provide cat flap installations for doors and windows in Northampton and its surrounding areas.
A cat flap is the ideal solution for giving your pet free access to their outdoor world. Our experienced technicians can ensure a smooth installation of our top-notch product on any type of door – uPVC, aluminium or patio! This easy-to-use alternative eliminates the need for you to constantly open the doors for them.
We recognize that every home is unique, which is why we offer our customers the opportunity to tailor their cat flap installation. Our selection of sizes and styles promises to accommodate your wishes and requirements. Our engineers are experienced experts who guarantee that each part of the installation is perfect – no draughts or safety anxieties!
Say goodbye to scratches and meowing all the time! With our dependable cat flap installation service, you and your pet can enjoy a more straightforward lifestyle. Let us help make life easier for both of you.
Contact Northampton Repair my Windows and Doors today to arrange an appointment for the fitting of a cat flap. We will provide a convenient way for your pet to enjoy both the great indoors and outdoor activities!
A little bit about Northampton
Northampton, a historic town nestled in the heart of Northamptonshire, exudes an undeniable charm and character that captivates visitors from every corner. With its rich heritage dating back to the 9th century, Northampton stands as a testament to its glorious past and vibrant present. Boasting a picturesque landscape dotted with ancient churches, imposing castles, and quaint cottages, this jewel of England effortlessly intertwines tradition with modernity. The bustling streets of Northampton are adorned with eclectic shops offering unique treasures alongside renowned high-street brands.
Its thriving cultural scene is showcased through numerous art galleries, theaters, and music venues that host captivating performances throughout the year. Moreover, history enthusiasts will find solace in exploring iconic landmarks such as Northampton Guildhall or discovering fascinating tales at the popular Museum & Art Gallery. The culinary delights found within this gastronomic haven range from traditional English fare to cosmopolitan cuisines served in award-winning restaurants scattered across town—truly satisfying even the most discerning palates.
Nestled amidst breathtaking countryside views and enchanting parks like Abington Park or Delapré Abbey Gardens offer tranquil retreats for nature lovers seeking respite from urban life's hustle and bustle. Welcoming locals embrace visitors with warmth while providing world-class hospitality synonymous with British culture—a reflection of why Northampton has become an enduring destination cherished by all who have had the privilege of experiencing its allure firsthand.
We cover the NN1, NN2, NN3, NN4, NN5, NN6 and NN7 postcodes and also provide boarding up services for those who have the misfortune of having their property damaged by the weather, burglary or have had their home vandalised.
To view our full range of services, click on the links opposite. If you wish to speak to us you can either call on 01604 269325 or fill out the enquiry form opposit
We also cover Wellingborough as well as other areas in Northamptonshire
Northampton Repair my Windows and Doors
The IO Centre
Barn Way
Lodge Farm Industrial Estate
Northampton
NN5 7UW
TEL: 01604 269325
Opening Hours
Mon 08:00 – 18:00
Tuesday 08:00 – 18:00
Wednesday 08:00 – 18:00
Thursday 08:00 – 18:00
Friday 08:00 – 18:00
Saturday 09:00 – 15:00
Sunday – Closed